Her Fear Gone, Christine McVie's Muse Soars With Fleetwood Mac Reunion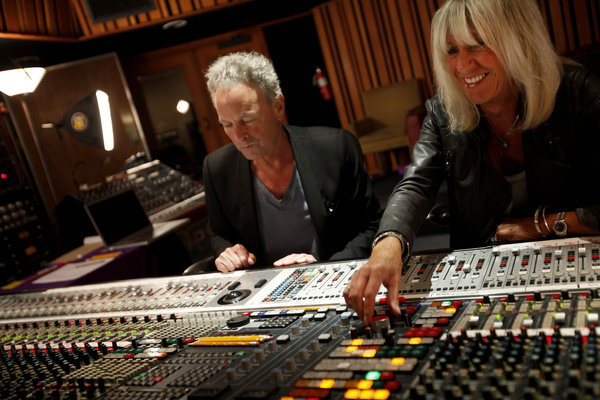 From the L.A. Times:

Christine McVie eases comfortably into the corner of a leather sofa, about a foot between her and Lindsey Buckingham. He leans forward and side by side, they listen to the playback of "Too Far Gone," a danceable new Fleetwood Mac song they've written together over the last few weeks at a West Los Angeles recording studio.

"This was a great collaboration," Buckingham said. "I had a track without any singing on it, and she wrote the song over it."

"We've been doing that quite a bit lately, haven't we?" McVie said.

Helping McVie write songs, Buckingham said to her, "is something you always wanted me to do for you, which was not necessarily the case with Stevie. She's a little more complicated in her needs."

It's a scene that would have been pure rock 'n' roll fantasy barely two years ago.

At that point, McVie was securely ensconced in her 17th century mansion in rural northern England, having retired from touring and recording with a band she'd been part of for a quarter century. Crippled by a fear of flying that made the idea of a trip to Los Angeles — or anywhere else — unthinkable, the '70s rock goddess stopped touring in 1998 and spent much of her time cooking and gardening.

But last week, the woman who wrote and sang many of the group's cornerstone songs, including "Don't Stop," "You Make Loving Fun," and "Little Lies," traded banter cheerfully with Buckingham, who expressed sheer delight at resuming the creative relationship they'd once enjoyed, both saying they've not only picked up where they left off, but agreeing that "it's better than ever."

In fact, it's the same studio they built 35 years ago when the British-American band was starting work on one of the most ambitious projects of the group's storied career, the two-disc "Tusk" album, which followed blockbuster "Rumours," one of the 10 bestselling albums of all time.

After a smiling McVie flashes double thumbs-up to engineer Mark Needham, Mick Fleetwood squeezes his unmistakable 6-foot-5 inch frame through the control room door and starts munching a forkful of salad out of a green plastic container. He grabs a digital camera off a coffee table and points it at his bandmates. McVie obliges him by twisting her mouth into a goofy grimace as he snaps the shot.

"There was some worry about whether it was a good idea to come back here," said Fleetwood, 66. "Maybe it would be better to go someplace new, someplace we hadn't worked before. But since we started working here, it couldn't be more fantastic."

F. Scott Fitzgerald's observation that "there are no second acts in American lives" notwithstanding, it appears that the Grammy-winning quintet is positioning itself for precisely that.

Of the band's five members, only Stevie Nicks isn't on the premises, busy attending to other commitments, they say. While Christine McVie and Buckingham signed off on the latest tweaks to "Too Far Gone," John McVie and Fleetwood worked on other facets of the new material.

McVie's return to the fold for an upcoming full-band reunion tour, announced in January, was surprise enough to music fans who'd been assured for a decade and a half that McVie had checked out of Fleetwood Mac and wasn't coming back. But things began to change a couple of years ago, when she began to reassess her decision.

She continued to write in her self-imposed retirement, and put out an appealing solo album in 2004, "In the Meantime." It was that project that helped plant the seed for her eventual return.

"It had some good songs on it, but I went about it all wrong, " said McVie, 70, still looking the part of the quintessential rock 'n' roll singer and songwriter in her brown leather jacket, over a white tank top and tight black jeans. "I did it the wrong way, with the wrong people, I didn't want to fly, I didn't want to promote it. I just did it in my garage and nothing happened with it. That caused a certain amount of angst, and then I just stopped."

Then a couple of years ago, she sought out a therapist to help her with the fear of flying. "He asked me, 'If you were to go anywhere in the world, where would you want to go?' I thought about it for a little bit, and I said 'Hawaii.'

"He said, 'Buy your ticket.' Then he said, 'You don't have to use it. Just buy it'," she said. Buckingham laughs at her revelation, saying, "I didn't know that part."

After a period of being gradually desensitized to the idea of flying, she said Fleetwood drove to her home to meet her, and together they got on a plane to Maui. There she joined him and her ex-husband, John McVie, at a performance by their blues band.

"I did a couple of songs there, it felt good onstage, and then I thought, I'm really missing out on something—something that's mine, that I've just given up, and I'm not paying respect to my own gift," she said. "I saw that if I want to start to play again, there's only one band I want to play with, and that's Fleetwood Mac."

That led to her first appearance in 15 years with Buckingham, Nicks, McVie and Fleetwood when the 80% edition of the group performed at the O2 Arena in London last year, a one-night reunion that set the stage for her return to the band.